AMES expands its Dubai facility for maintenance and repair work on GE90 jet engine fan stator modules
Dubai, United Arab Emirates, February 24, 2020
Aerostructures Middle East Services (AMES) today inaugurated the expansion of its Dubai facility in the United Arab Emirates, which is dedicated to maintenance, repair and overhaul (MRO) work for aircraft nacelles, aerostructures and large engine components.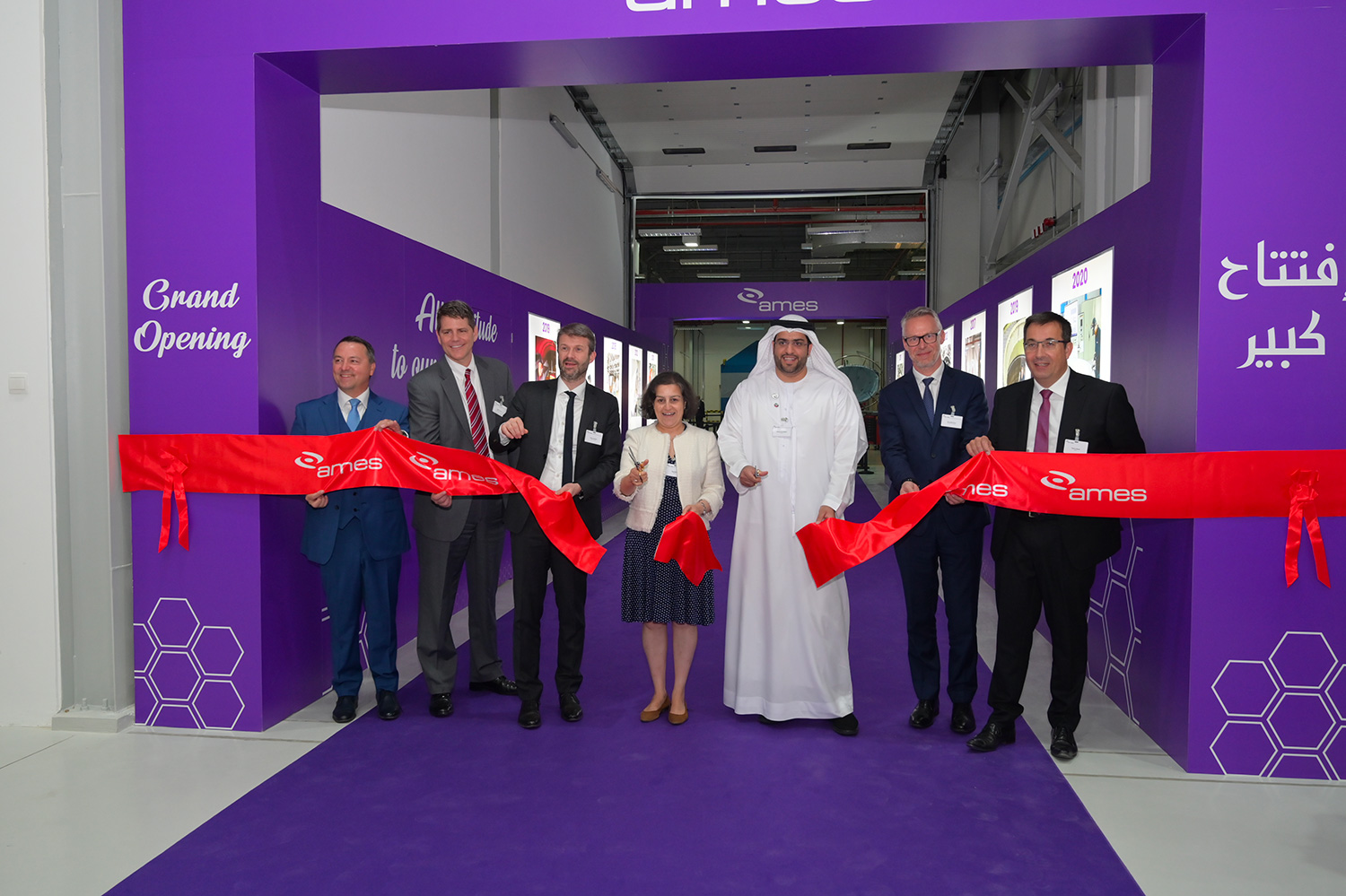 The building extension provides additional capacity for AMES' newest activity: preventive maintenance inspections (PMIs) and associated repairs on fan stator modules for General Electric GE90 engines that equip Boeing 777 jetliners.
With this extension, the AMES operation in Dubai's Jebel Ali Free Zone is doubling its workshop surface and workforce, enabling the company to accommodate inspections and repairs performed on the four-meter-diameter GE90 fan stator modules.
In particular, the expanded AMES facility is outfitted with modern resources – including ultrasonic inspection systems for the fan stator modules' composite panels and metallic components. The preventive maintenance inspections for GE90-100/115 fan cases are mandated by GE as the engine original equipment manufacturer, and are to be performed once they have accumulated 50,000 flight hours.
Maintenance, repair and overhaul activity is offered by AMES for countries in the Middle East, Gulf Region and Indian peninsula, which is a region representing one of the largest concentrations of Boeing 777.
AMES is a joint venture of Air France Industries KLM Engineering & Maintenance and Safran Nacelles. In 2020, the joint venture is celebrating its 10 years of operations.
According to Thierry Baud, AMES' co-General Manager: "AMES is extremely well-positioned for new business opportunities: unique in having one of its owners, Safran Nacelles, as a leading original equipment manufacturer; and the other, AFI KLM E&M, as an industry reference for airline maintenance, repair and overhaul."
AMES co-General Manager Jean-François Verkindre added: "We look forward to the next 10 years – and beyond – with confidence, benefitting from AMES' proximity to airline operators in our region, as well as our company's nacelle and aerostructure capabilities for such growing airliner fleets as the A320neo and A330neo."
About AMES
A joint venture set up by Air France Industries KLM Engineering & Maintenance and Safran Nacelles in 2010, AMES is a key player in the MRO market, specialising in overhaul and repair services for nacelles, radomes, engine fan stator modules, as well as all metallic and composite parts of an aircraft. Located in Dubai, at the operational crossroads of key Middle East airlines and close to operators on the Indian sub-continent, AMES offers the MRO expertise of a leading OEM, delivering highly effective, rapid-response aircraft maintenance and repair solutions for nacelles, aerostructures and composite parts.
Website: www.ames-fzco.ae
About AFI KLM E&M
Air France Industries KLM Engineering & Maintenance is a major multi-product MRO (Maintenance, Repair, Overhaul) provider. With a workforce of over 14,000, AFI KLM E&M offers comprehensive technical support for airlines, ranging from engineering and line maintenance to engine overhaul, aerostructure and fan thrust reverser support, as well as the management, repair and supply of aircraft components, structured around a powerful logistics network. AFI KLM E&M supports almost 3,000 aircraft operated by 200 major international and domestic airlines.
Website: www.afiklmem.com / Follow @afiklmem on Twitter
About Safran Nacelles
Safran is an international high-technology group, operating in the aircraft propulsion and equipment, space and defense markets. Safran has a global presence, with more than 95,000 employees and sales of 21 billion euros in 2018. Safran is listed on the Euronext Paris stock exchange, and is part of the CAC 40 and Euro Stoxx 50 indices.
Safran Nacelles is a world leader for aircraft nacelles and an active player in after-market services, with over 23,000 products in service, and over 140,000 daily flight hours. The company is active in all segments of the market, from regional jets and corporate aircraft to the largest airliners.
For more information: www.safran-nacelles.com / Follow @Safran and @SafranNacelles on Twitter
For further information, please contact:
Air France Industries KLM Engineering & Maintenance
Branding Strategy & Medias Manager
Benoit Colin
Telephone: +33 1 49 88 52 33
E-mail: becolin@airfranceklm.com
Safran Nacelles
Deputy Communications Director
Bénédicte Tilly
Telephone: +33 2 35 88 73 48
E-mail: benedicte.tilly@safrangroup.com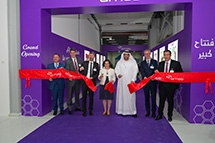 2017.11.30
AMES will be present at the 2018 MRO exposition in Dubai on January 23th and 24th

2017.01.16
AMES will be present at the 2017 MRO exposition in Dubai on February 8th and 9th, stand #554

2015.01.15
AMES will be present at the 2015 MRO Middle East Exhibition, and we are pleased to welcome you to visit our stand #413 on February 2nd and February 3rd

2010.02.26
MRO Middle East, Dubai


Februrary 28th to March 1st, 2010
Find AMES at the booth 917